Watch our short video of Fresh Artists' kids at 22' Philly Flower Show!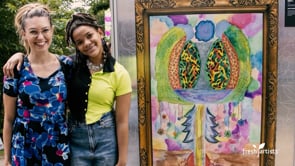 Meet our young artists from Philly, Camden and Norristown whose fabulous floral works of art were featured in our "Bloom Boom" Major Exhibition at the 2022 Philadelphia Flower Show.
"I created this piece because I wanted people to feel happy!" 
- Elyse, Grade, 7
Their artwork knocked the socks off more than 175,000 people attending this world-famous event! Watch our video to meet the young artists that had a life-changing experience this school year!